Massage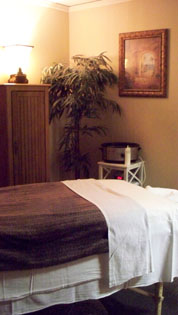 When muscles are overworked, waste products such as lactic acid can accumulate in the muscle, causing soreness, stiffness, and even muscle spasm. Massage improves circulation, which increases blood flow, bringing fresh oxygen to body tissues. This can assist the elimination of waste products, speed healing after injury and enhance recovery from disease.

Therapeutic massage can be used to promote general well-being and enhance self-esteem, while boosting the circulatory and immune systems to benefit blood pressure, circulation, muscle tone, digestion and skin tone. It has been incorporated into many health systems, and different massage techniques have been developed and integrated into various complementary therapies.

Massage therapy is the systematized manipulation of soft tissue for the purpose of normalizing them. The basic goal of massage therapy is to help the body heal itself and to increase health and well-being.

Bond Family Chiropractic massage therapists use a variety of physical methods during massage treatments, including applying fixed and movable pressure, holding or causing movements to the body, and hot or cold therapy. Our therapists primarily use their hands, but may also use their forearms or elbows. Deep tissue, pregnancy, and sports massage are also available from our massage therapists.
Meet Our Massage Therapists


Monica Helmke, LMP schedules appointments Monday-Thursday and has been with the office since 2008.

Brandie Grant, LMP joined our team in 2017 and is available Monday-Thursday to schedule appointments.